Robert's Corner
What the heck .....
No games Memorial Weekend. Enjoy your time off. The playoffs will still be here when you get back.
I understand some players are heading to Las Vegas to play in their tournament. Good luck guys.
The weather should be great maybe time to play a little golf this weekend.
I hope everyone has learned that we are raising the fees for teams that make two payments. Teams that only play half a season actually cost our league more money than we make because we still have to pay for the fields and league insurance. We can not anticipate who will playout the season or who will only be a half a season team.
Free Agents
Available Players
Joseph White
Livebythecreed15@yahoo.com
(909) 786-7959
If, Of
A, B
James Mcintire
(909) 851-1177
OF
B
Diego
Morbidv@gmail.com
(909) 545-2315
If, Of
AA
R.J.Larkin
jj4444u@gmail.com
(917) 561-3914
P, If
AAA, AA, A, b
Christian Castillo
(626) 848-3764
Cc81372@gmail.com
1B, C, Rf
AAA, AA, A, B
Robert Flores
Bobby24che100@yahoo.com
(909) 261-5566
P, If, OF
AAA, AA
Jay Gonzalez
909-536-3063
Bosoxjay22@gmail.com
IF, OF
AAA,AA,A,B
Tristan Cassel
tristankcassel@gmail.com
(615) 478-2136
P, OF
A, B
Enrique A. Duran
Duranenrique10@gmail.com
(909)371-4464
If, Of
AAA, AA, A, B
Erik Casillas
erikcasillas11@aol.com
(909)256-9163
P, C, If
A, B
Nathan Rodriguez
narodriguez34@gmail.com
(760)578-3863
AAA
Raemont Rozier
raemontrozier@gmail.com
(919) 352-5821
OF
AAA, AA, A, B
George Sanchez
sangeo951@gmail.com
(951)400-3469
P, IF, OF
AAA, AA, A, B
Jorge Bonilla
(714)349-3326
IF, Of
AAA, AA
Andrew Miller
andrewmiller3070@icloud.com
(909)736-5606
P, IF, OF
AAA, AA, A, B
Richard Mason Jr
richardmason89@gmail.com
(626)826-7746
IF, OF
AAA, AA, A, B
Power Rankings
FINAL
Aluminum Bats
Offense
| | |
| --- | --- |
| 1. Bandits | 166 |
| 2. Mineros | 160 |
| 3. Pomona Giants | 147 |
| 4. So Cal Mariners | 140 |
| 4. Los Magueyes | 140 |
Defense
| | |
| --- | --- |
| 1. WC Scorpions | 57 |
| 2. Pomona Giants | 60 |
| 3. Rio Florido | 64 |
| 3. Colt 45's | 64 |
| 5. TB Rays | 66 |
NOTE: Teams from the AAA division are excluded from the League Leaders. The reason is that the AAA division is wood only.
Baseball Injuries
Player hurt Sunday
We all know that we play every Sunday with the chance that we might get hurt. Some of us are lucky enough to have jobs that gives us medical coverage, sick time and are covered by state disability. Unfortunately not everyone has these advantages. Last Sunday in a playoff game between the So Cal A's and the Magueyes,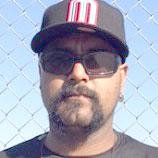 Humberto Dominguez slide into 2nd base and fractured his right fibula. He will be out of work for 2 to 3 months. He will be unable to work to provide for his family. The family is asking for donations of any kind to help. Any team interested in helping out, please contact Magueye Manager Danny Vasquez at (951) 790-7011.
Todos sabemos que jugamos todos los domingos con la posibilidad de que podemos salir herido. Algunos de nosotros tenemos suerte de tener un trabajo que nos ofrece cobertura médica, días libres por enfermedad y cobertura estatal de discapacidad. Por desgracia, no todo el mundo tiene estas ventajas. El domingo pasado en un partido de eliminatoria entre el So Cal A's y Magueyes, Humberto Domínguez se barrió dentro de la 2da base y se fracturo la fíbula (el peroné) derecho. El estará fuera de trabajo por 2 o 3 meses. Y no será capaz de mantener a su familia. La familia está pidiendo donaciones de cualquier tipo de ayuda. Si algún equipo le interesa en ayudar, por favor, contacte el administrador de Magueyes Danny Vasquez al (951) 790-7011.
First round
Sundays Results
In the TOP Bracket we saw the Upland A's dig a huge first innning hole and were unable to get back out and were defeated by the Cubs 11-4.
The Upland Bruins had a huge inning to break open their game versus the Potros to go onto the win 13-6.
UPDATE:The Cubs take game one of the series with a 6-3 victory.

In the Middle Bracket we had a great game between the Colt 45's and the Sun Devils. The 45's barely advanced with a 3-2 victory.
The Piratas brought the big bats and defeated the Twins 17-7.
UPDATE:The Piratas take game one of the Championship series. They defeated the Colt 45's 6-4.

In the Bottom Bracket Rio Florido had to come up with 4 runs in the last 2 innings to finally subdue the very tough So Cal Pirates.
The Doyers defeated the RC Dodgers 5-2. The TB Rays were able to get past the WC Scorpions 9-6.
In somewhat of a surprise, the So Cal Mariners pounded the Miners 14-0.
UPDATE: The # seeded Rio Florido defeated the Doyers 8-1 to advance to the Championship. The TB Rays were able to get by the So Cal Mariners to meet Rio Florido for the big trophy.

In the Lowest Bracket we had probably the biggest upset of the day. The #8 seeded Calif Reds defeated the top seeded Bandits 15-6.
The Tigers were able to sneak past the Pomona Giants 4-2.
In a slugfest, the So Cal A's were finally able to beat the very tough Magueyes 13-12. The Bucaneros defeated the Pomona Aguilas 13-9.
UPDATE: The Calif Reds had the easiest playoff win when the Tigers were unable to get 9 players. They advance to meet the surprising Bucaneros who were able to squeak by the So Cal A's.
Picks
Robert's predictions
I wasn't going to post my predictions because I'm not sure if anyone even pays attention to them but I was asked so I will post what I had before this Sunday.
In the TOP Bracket I have to go with the Upland Bruins and Cubs. While the Cubs are always in the finals, I think the Bruins will sweep the Cubs.
UPDATE: Well I guess the Cubs didn't get the memo because they defeated the Upland Bruins. So I guess I have to update my predications. Bruins win 2 games to one.
In the Middle Bracket I have the Colt 45's and the Piratas in the finals but If there is one team that can break this bracket up. Its the Twins. I think the Twins have a chance to knock the Piratas out.
UPDATE: I did get the two teams in the finals right but I didn't pick who would win. If I had to pick a team which I do. I think the Colt 45's should come out ahead. Now that they are down by 1 game will make it toughter but they can do it.
In the Bottom Bracket I see a TB Rays/Rio Florido Final. The sleeper team here has to be the Doyers. The So Cal Mariners are a very good team too.
In the Lowest Bracket I have a Bandit/So Cal A's final. The Bucaneros can break this bracket up but we will have to see what happens.
UPDATE: This bracket has the most interesting matchups. I don't know how the Calif Reds made it this far but here they are. They will face the #2 seeded Bucaneros. I think both teams are about the same offensively but I think the Bucaneros have slightly better pitching.
Opening Day
First game next season
If everything goes as expect, we should be able to start our new season on June 12. We will have a league meeting on June 7 at which time fees will be due. The fees will be slightly different. The fees for teams paying their fees before game 1 will remain $850. Teams that will be making payments will have a slight increase. The fees will now be two payments of $500. This increase is necessary to try to address some of the field increases we have had to absorb over the last few seasons. As you guys know, I hate to increase our fees but we are forced to do so to meet our costs.
News and Events
May 23, 2016
Next League meeting
Tuesday
June 7, 2016 @ 7:00 p.m.



Michael Angelo's Pizza Restaurant
2467 S. Euclid ave.
Ontario, CA 91762
(909) 984-5161
Behind McDonald's
Extra Batter Rule
Click
here
to go to our Extra Hitter rule page.
Questions, comments, or suggestions?
If you have any questions, comments, or suggestions for us, send us an email at
aztecbaseballleague@hotmail.com
Miguel Lopez Anthony Gonzalez
1982-2012 1997-2015
Rest in Peace